ir a principal | Ir a lateral
Scherenschnitte (shear-n-SNIT- a) which means "scissor cuts" in German is the art of papercutting. The art work often has symmetry within the design. The art tradition was founded in Switzerland and Germany in the 1500s and was brought to Colonial America in the 1700s by immigrants who settled primarily in Pennsylvania.
Source: Wikipedia
While I've never attempted this genre of art, I was also quite overzealous in that I picked one of the most tricky designs for my first try. I came across this insanely pretty design by Heather Moore of skinnylaminx. My first thought was "OMG I have got to try that!" But I could foresee myself making a lot of accidental slashes which would end up in a very frustrated me ripping the paper to shreds, so I strayed from tradition and used craft foam instead.
Unlike in the States or Down Under, the range of craft supplies are really limited, safe for a few specialty stores located too out of the way for me. So when I saw craft foam in basic colors sold rather cheaply at a bookstore, I was delighted and made a grab.
This could even be funky decorative background or something (that you could easily create with like, MS Paint rather than painstakingly arranging foam pieces, but oh well..):
I also bought a pack of black foam, but who wants to look at a photo of a black rectangle, right?
Anyway, back to my project..
First, I printed out the design on plain white A4 paper, and fastened it to the top of a sheet of black foam with binder clips. I also found it quite useful to staple the two layers at parts that'll be cut out later (in this case, the white areas). Just a few will suffice to keep the layers in place. I guess the thickness of the foam also helped keep the staples snug and tight.
Here's what I had just before I cut the final bit (note the stapled part on the far right).
After taking this photo, I realized how similar it was to Heather's, except her papercutting turned out perfect and my foamcutting..erm, not so much.
After messing my desk and floor with a horrendous heap of paper and foam bits, this is the result, placed on yellow foam:
The only reason why I survived this was because foam, although thicker and more resistant to the force of the blade, is also less likely to tear or crumple due to those same characteristics. My paper layer got creased and torn as I moved on working from one section to another. Papercutting takes real skills and patience, and I'm only just learning to maneuver the scissors properly, so I'll stick to foam sheets for practice for the time being. The 3D effect of foam is great too.
So there you go, my first Scherenschnitte. Now I'm hooked!
My projects for the past week have provided me great fun and possibly increased my patience level (gasp!).
In chronological order:
1) Golddiggers
by Maarten Janssens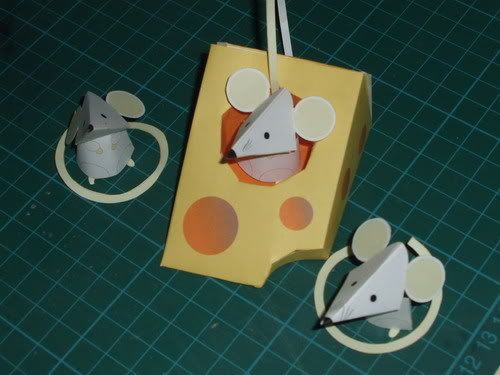 Only upon completion of these cuties did I realise how appropriate they were as well, since this is the Year of the Rat!




2) Mini Gift Bags by Martha Stewart (herself?)



Nothing extraordinary. Just couldn't resist the sweet colours of the templates! The actual title of the project was Miniature Valentine's Day Gift Bags, but I'm sure you can make use of these for any gift-giving occassion.




3) Cute Anime Schoolgirl (update: 5 Apr 2008: this awesome site has closed down!)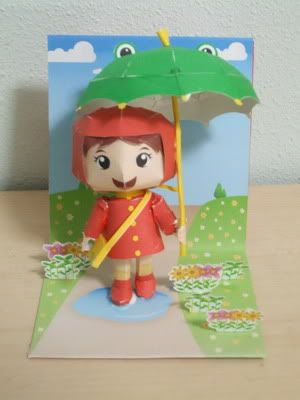 This one proved to be quite challenging for a beginner like me, and it took me two nights (approx. 7 hours) to complete the entire thing. I think it was the most fiddly thing I've made so far. Just look at what I had to cut out just for the head and body alone:
Also, since the whole figure was really tiny, the tabs were practically microscopic, and I had some difficulty trying to make them stay in place after applying glue (being a purist, I refused to use any sticky tape at all although that would have made my life tons easier!).
How small?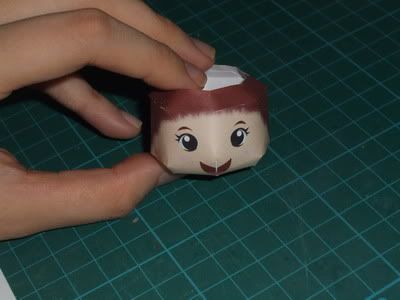 So cute huh? Well, I survived, and the end product turned out not bad at all, given my amateur skills. *grins*





4) HedKase Kid by Brian Castleforte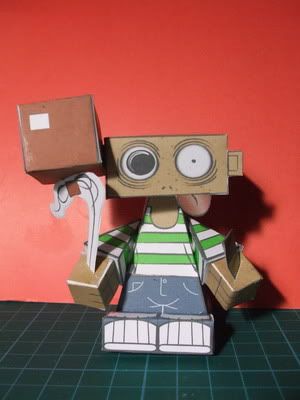 The following night I decided to go back to simpler projects so that I could do it while watching American Idol. NiceBunny has some really cool paper toys. I'm not such a fan of robots, cars and other 'macho' action characters, so I only picked the fun ones.
5) Sayuri by Nick Knite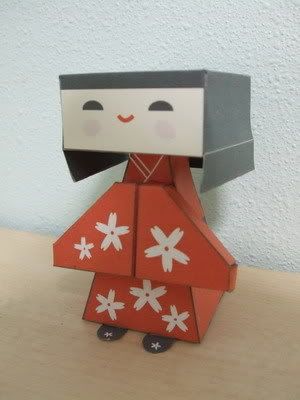 Here's a cute one from the HedKase Artist Series. I also have a few other projects saved up to occupy me another day. But meanwhile I wanted to try some different things first.



6) Rockin' Rudy by Matt Hawkins

Quite easy to make, and oh so adorable, sitting with legs/hooves dangling from the edge of my shelf. His head nods if you poke it (gently!!).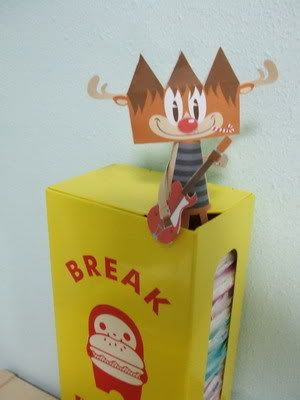 Moved it to a less precarious spot - atop my pocket tissue dispenser!



7) Speakerdog Loves Stripes by Carolina Negret

Speakerdog is another site by very imaginative people who are generous enough to share lovely paper toys for free. Gotta give them props. Lots of it.
Pictured above is my first Speakerdog (from Series 2). They have so many gorgeous ones that you just can't help but make them all and start a collection. I know I would, when I have more storage space.
Yup, those are where all my nights for the past week have gone to, and it was well worth it. I have a shelf-top full of quaint paper things now.. :)
And that's a wrap!
The birth of this blog stemmed from my recently rediscovered love for paper crafts. I was a huge origami and pop-up card enthusiast as a kid, but japanese craft books (even kiddy ones) were rather costly, and so the only one we had had to be circulated around between me and my cousins who lived in another state. It is not as sad as it sounds though. The book was very well used, and currently in my possession. :)
I don't know about you, but I find it therapeutic when paper-crafting, when my mind is completely focused on cutting, folding and assembling with precision, and all my worries and heartache would magically disappear for a while.
Anyway, school and university days left me so worn out that I had no time to indulge in any hobbies other than online chatting and random net-surfing. But now, doing an internship means that after office hours, I have entire nights all for my leisure with no studying and report-writing to stress over. One day, I stumbled across some sites on really cool things that people have done with paper, and got me all excited to pick up my long-lost hobby again.
I'll admit, I prefer to scour the net for free project templates because experimenting on my own designs will take way too long, and I really want to get my hands into the actual joy of producing something fail-proof. Well, I never claim to be an artist. Love for handicrafts does not necessarily translate to talent for designing them, right?
And thus, I leave it to the true pros to come out with absolutely genius stuff. (All crafts shown in this blog will be appropriately credited unless the designer is not known.)
Finally: Please don't laugh at my work! If you must, chuckle or sneer discreetly. I am fragile.