ir a principal | Ir a lateral
My projects for the past week have provided me great fun and possibly increased my patience level (gasp!).
In chronological order:
1) Golddiggers
by Maarten Janssens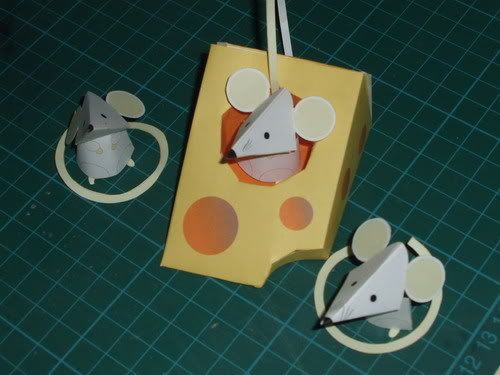 Only upon completion of these cuties did I realise how appropriate they were as well, since this is the Year of the Rat!




2) Mini Gift Bags by Martha Stewart (herself?)



Nothing extraordinary. Just couldn't resist the sweet colours of the templates! The actual title of the project was Miniature Valentine's Day Gift Bags, but I'm sure you can make use of these for any gift-giving occassion.




3) Cute Anime Schoolgirl (update: 5 Apr 2008: this awesome site has closed down!)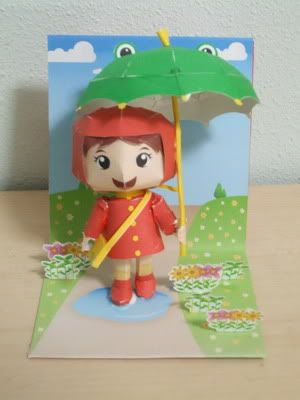 This one proved to be quite challenging for a beginner like me, and it took me two nights (approx. 7 hours) to complete the entire thing. I think it was the most fiddly thing I've made so far. Just look at what I had to cut out just for the head and body alone:
Also, since the whole figure was really tiny, the tabs were practically microscopic, and I had some difficulty trying to make them stay in place after applying glue (being a purist, I refused to use any sticky tape at all although that would have made my life tons easier!).
How small?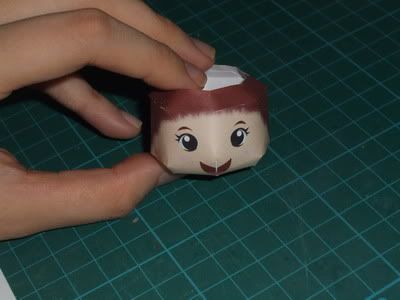 So cute huh? Well, I survived, and the end product turned out not bad at all, given my amateur skills. *grins*





4) HedKase Kid by Brian Castleforte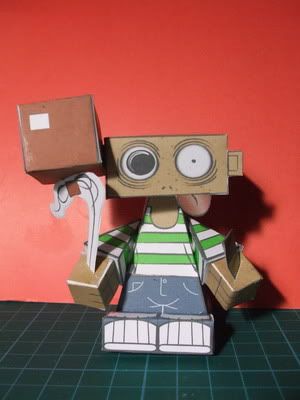 The following night I decided to go back to simpler projects so that I could do it while watching American Idol. NiceBunny has some really cool paper toys. I'm not such a fan of robots, cars and other 'macho' action characters, so I only picked the fun ones.
5) Sayuri by Nick Knite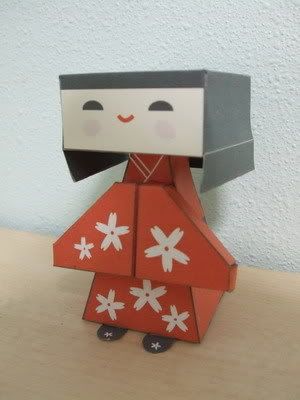 Here's a cute one from the HedKase Artist Series. I also have a few other projects saved up to occupy me another day. But meanwhile I wanted to try some different things first.



6) Rockin' Rudy by Matt Hawkins

Quite easy to make, and oh so adorable, sitting with legs/hooves dangling from the edge of my shelf. His head nods if you poke it (gently!!).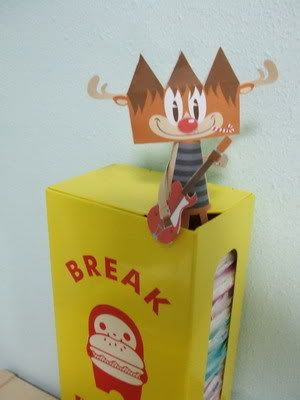 Moved it to a less precarious spot - atop my pocket tissue dispenser!



7) Speakerdog Loves Stripes by Carolina Negret

Speakerdog is another site by very imaginative people who are generous enough to share lovely paper toys for free. Gotta give them props. Lots of it.
Pictured above is my first Speakerdog (from Series 2). They have so many gorgeous ones that you just can't help but make them all and start a collection. I know I would, when I have more storage space.
Yup, those are where all my nights for the past week have gone to, and it was well worth it. I have a shelf-top full of quaint paper things now.. :)
And that's a wrap!